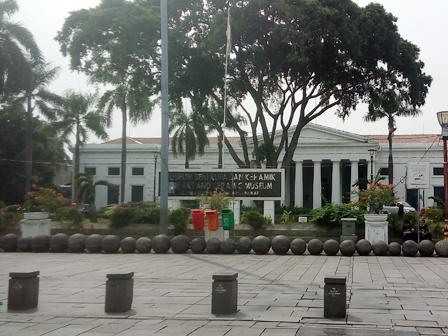 (Foto : Keren Margaret Vicer / Beritajakarta.id)
Within January-June 2017 periods, it was noted 88,377 people have visited Fine Arts and Ceramics Museum on Jl. Pos Kota, Pinangsia Urban Village, Taman Sari, West Jakarta.
" Museum entry tickets is really cheap"
Fine Arts and Ceramics Museum Management Unit's Administration Sub-division Head, Lili Suhaidi informed, there were 123,346 visitors in 2014; 178,201 visitors in 2015; and 168,411 visitors in 2016.
"Museum entry tickets is really cheap. Rp 5 thousand for adult, Rp 3 thousand for college students, and Rp 2 thousand for students," she said, Monday (7/17).
She added, visitors is not only touring in museum, but also gain some knowledge about fine arts and ceramics history, especially in Indonesia.
Meanwhile, Ugi, one of the museum staffs said, one collection that attracted visitor the most is artwork collection from the famous painter, Raden Saleh Syarif Bustaman.
"Raden Saleh's oldest artwork is predicted was made between 1822-1880," he closed.